ALERT! Safety Boom! is our new story-driven simulation game for iPhone and iPod touch. We transport you into the high-pressure, high-tension lives of DEEPP6 — an elite international Bomb Disposal Squad.
In a world where people have to check their shoes for bombers each morning, you'll use a unique multi-touch interface and a full toolbox of tricks to take out increasingly complicated devices, while the story unfolds through richly-drawn comic-book cutscenes.
Our ambitious new iPhone game, Alert! Safety Boom! is now released! If you'd like to pick it up, head over to the App Store and check it out!
It seems that cute bomb-disposal escapades are in the news all of a sudden! :P
It is done! We have sent Alert! Safety Boom! off for review and, if all goes well, distribution in the App Store. We've also released a trailer today:
So, we haven't spoken about Alert! Safety Boom! in a while. This is just a quick update to let folks know that... it's finished! And currently undergoing beta testing!
We've been testing it (both ourselves, and getting a small bunch of people around the world to check it out) for about 2 weeks now and it's been very helpful — not just finding & fixing bugs, but also getting feedback on difficulty, on instructions that aren't clear. Lots of little details that, with a spot of polish, help the game as a whole to shine.
A number of you might be wondering What On God's Earth is happening to Alert! Safety Boom! at the moment. It's been a while since we updated you with any news and I thought I could take the time to clear it up.
It's all my fault.
The beta build has been up and running for a while now and, barring a few minor tweaks and amendments, is pretty much ready to go. Ready to go without the music, that is. This has been due to a number of minor to major annoyances at my end but, sparing you most of the details, massive flooding has caused me to have to move most of my studio equipment into storage.
Time to introduce the remaining team members, Pasha:
and Ozymandius: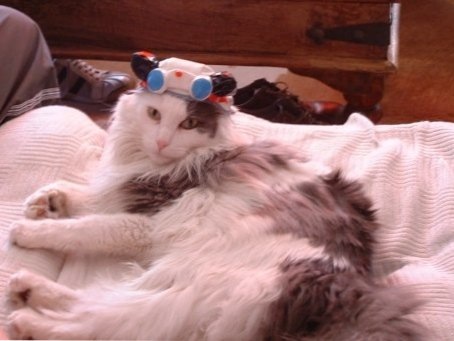 Theirs is mainly a supervisory role, working with John to ensure the highest quality artwork for the project. However, as you can see by their suave and practical headgear, they're also responsible for fulfilling our mecha-piloting needs.
One of the things we wanted to do with Alert! Safety Boom! was include a story, and tell it in an interesting way. The most common (but not necessarily best) way for videogames to do this is with cutscenes — full-screen video or animation. These are generally big expensive affairs, however, and beyond the means of an ickle indie developer like Wooji Juice.
A lot of smaller games get around this by having a picture for each character in the story, and simply displaying the appropriate picture with a text box over the top. This works, and it sure is cheap, but it's barely a step above filling the screen with a page from a book. How could we go further?
So, how are things going here in A!SB!land?
Currently, we're hard at work getting all the missions up and running. All of them are designed, and have been created in our custom Boom Editor, but they're not all ready for testing yet — probably about 20% of them need more work done. Then we can get beta testers trying them out, making sure they're fun, making sure there aren't any bugs, and also checking the "difficult curve". Ideally, each mission is just a little trickier than the last, so that the player is challenged but never runs into a brick wall of difficulty. This is one of the most valuable things we get from beta testing.
Hello Mr. Internets (or is that Ms. Internets? Does anyone actually know? Is there an internet gender debate forum out there? I suppose if there was then it'd probably be populated entirely by virulent feminists so I guess I know what the answer would be... hmm, I seem to have written my longest aside ever — oops!). To continue the developer blog I thought I'd write a little about myself. My name is Patrick Nasralla although I sometimes go by GomiNoSensei in a misguided attempt to stop people asking for me to spell my second name (yes, I do see the irony there...) and I'm responsible for the sound design and music in the wonderful A!SB!
Hello, welcome to our developer diary and my first foray into the blogosphere. My name is John Steels, some people call me Steel Fox (On account of my my surname and my luxuriant ginger locks and cos its sounds like a MGS badguy), some just call me Foxy (cos its true) and some people call me a grumpy bastard (which is also true).
Now, unaccustomed as I am to typing, this short bit of prose has been the most painful few hours of the entire development thus far. But I figured that if I was going to write a little something about myself, then something that contextualises the potentially terse-sounding updates would probably be a good thing. It's not that I type slowly or have a poor vocabulary (I know all the English swear words and even some Cantonese), it's more a case of not being sure how to pitch this. First I wrote a jokey version that sounded like a hammy intro for a game character, then that was followed by a dreadfully dry "professional" version that just sounded like an accountant's CV, and finally what you see here the "honest" version. Well, they say write what you know, and I know how to make a meal of something :)